Upgrade your phone system with remote work capabilities
Connect remote workforce with your existing office phone system in less than 10 minutes without changing existing infrastructure.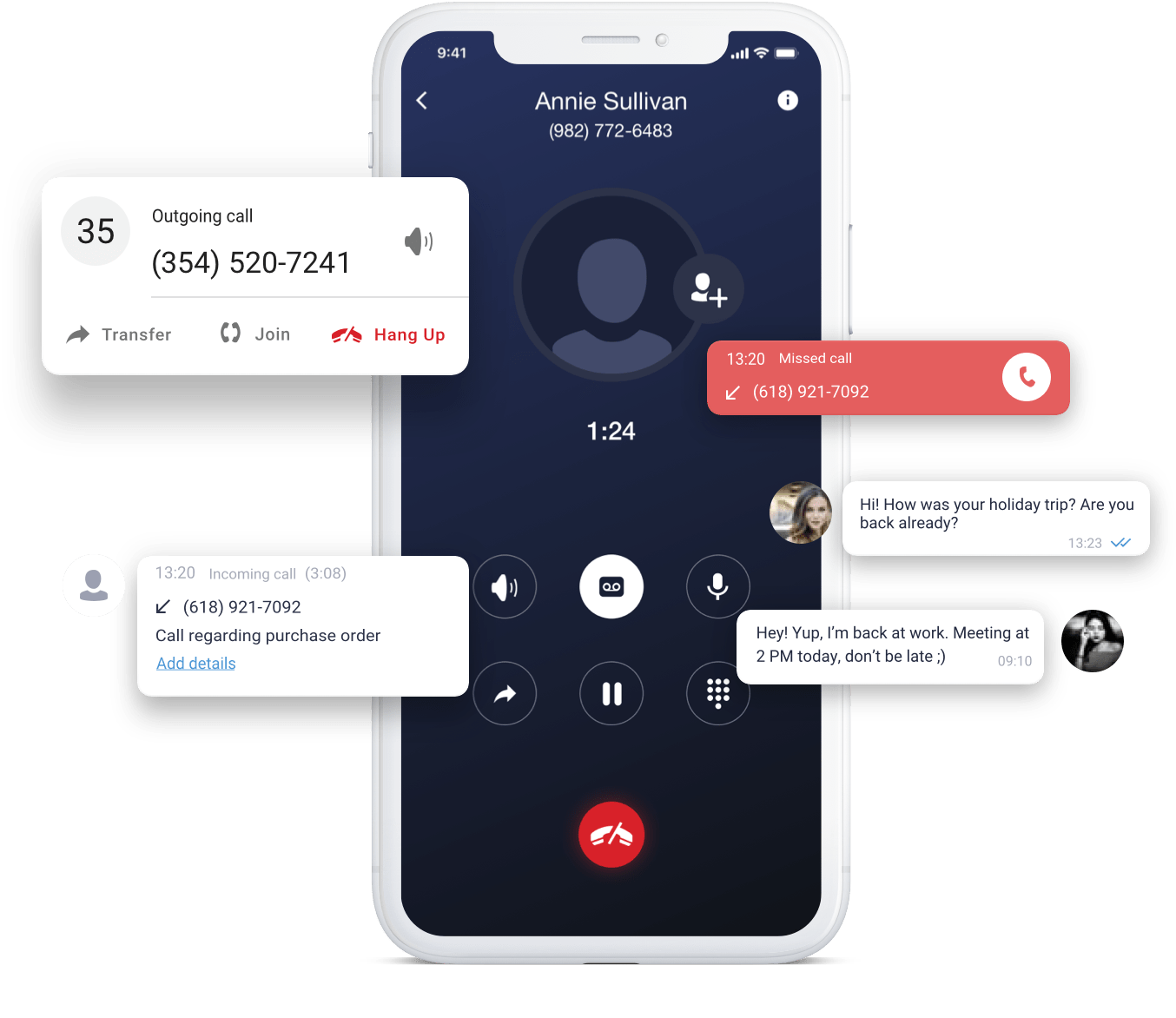 Feature-rich Softphones with Team Messaging and Cloud Provisioning
Ringotel easily connects to your existing phone system and empowers your employees to produce better results by giving secure access to relevant information and tools wherever they are.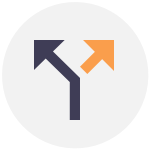 Advanced call features
Ringotel mobile apps are specifically designed for continuous daily usage and provide reliable and secure communication wherever you are.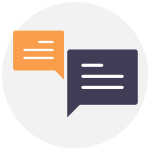 Team messaging
High-quality video calls, screen sharing, group messaging, files sharing and much more for productive work.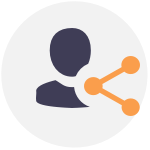 Lightweight CRM
Get the full context about who you're talking to with customer profiles, conversations history and centralized contacts directory that sync between all your devices.

Real-time presence
See who is available, busy or offline across all PBX extensions without manual BLF configuration.

Cloud provisioning
Monitor and provision softphones remotely from the easy-to-use admin portal or powerful API.

Secure VoIP tunnel
Make remote working easier and more accessible for PBX users avoiding the necessity of port forwarding, VPN or responsive firewall.
1 Create an account
Create a free account and access your softphone provisioning portal.
2 Setup your account
Configure softphones settings, then add or import your PBX users (takes less than 5 minutes).
3 Start communicating
Users will receive welcome emails with QR codes and instructions to install and log into the Ringotel apps on their devices.
The Softphones
Better mobility and productivity
With Ringotel Softphones your workplace travels with you. Any device, any place – all capabilities of your Office Phone System at your fingertips.
Call Transfer, Forwarding and Conferencing
More softphone features
The Platform
Peace of mind to IT and PBX admins
Setup and manage softphone apps via the centralized admin portal or API that gives you the ability to remotely provision, monitor and maintain users' apps
More control over the users' apps
Reduce manual setup for users
Keep infrastructure secure without VPN or port-knocking
Professional support team by your side
More platform features
Features designed for modern communication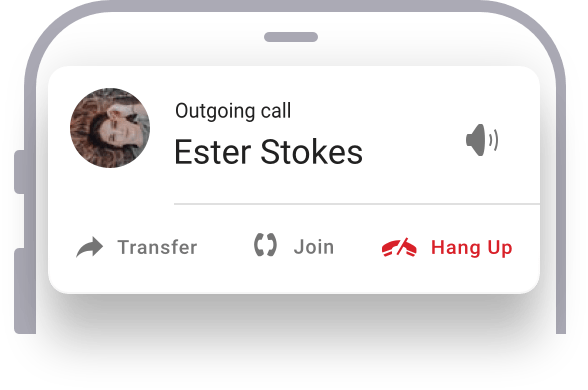 Advanced call features
Blind/attended transfer, unlimited conferencing, multiple forwarding rules and more.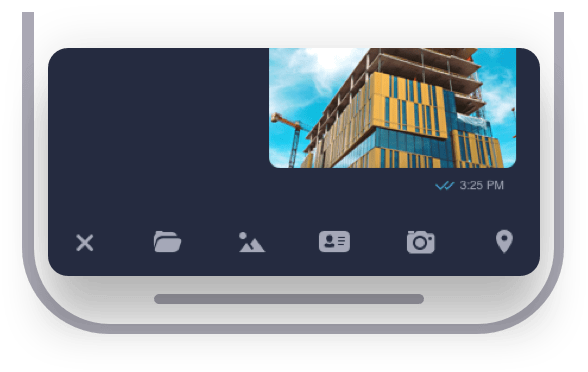 Rich messaging
Private and group messaging, media and files sharing, advanced filters and much more for productive work.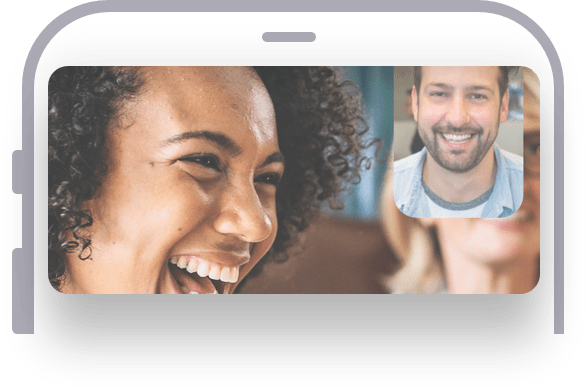 High-quality audio and video calls
Make high-quality audio and video calls from your mobile or desktop devices.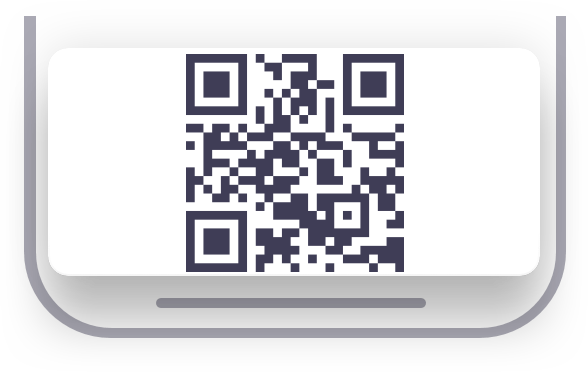 Welcome emails with QR code
Easily onboard new users with automated emails containing instructions and QR codes.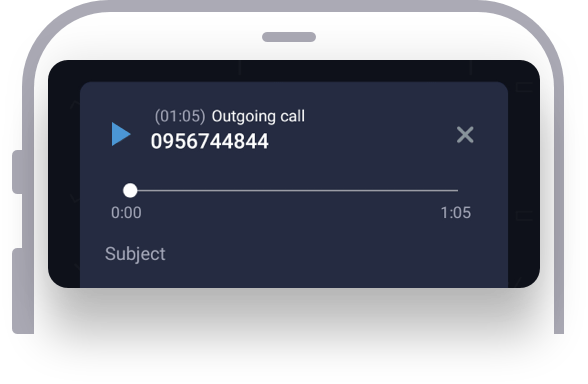 Compliant call recording
Start/stop recording anytime during a call or set up auto-recording to record every call.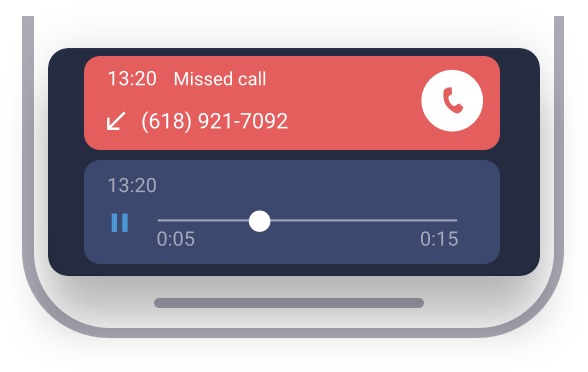 Visual voicemail
Listen to your voicemails right in the app and be notified about new one with push-notifications.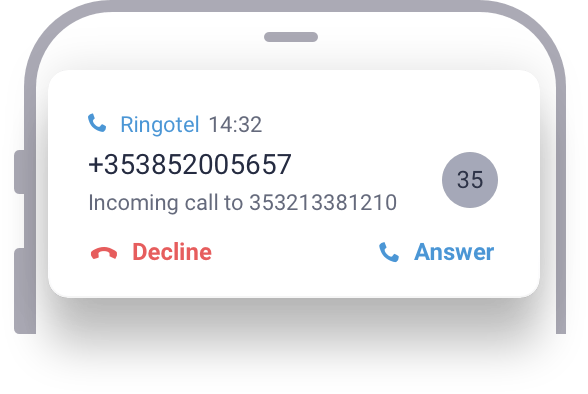 Push notifications
Never miss a call, message or a voicemail, and save battery life with reliable push-notifications.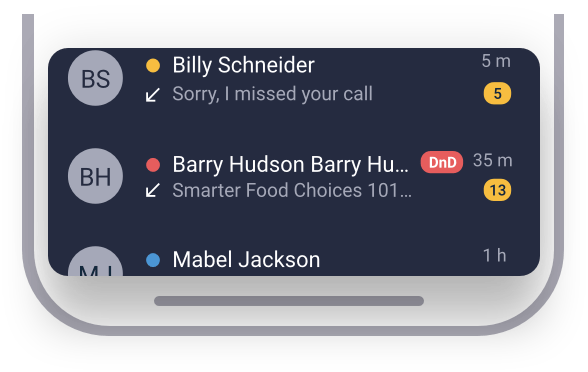 Busy Lamp Field (Presence)
Easily see who's available to talk, who's busy, and who's offline.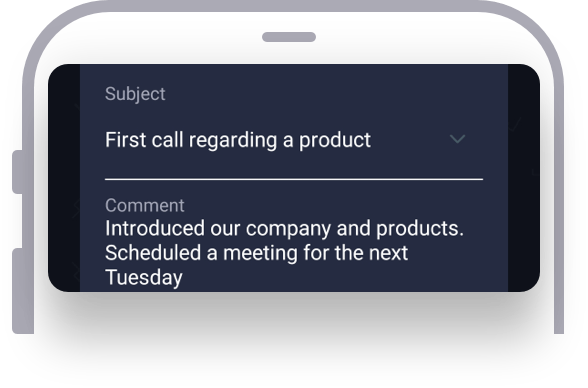 Lightweight CRM
Get full context about who you're talking to with customer profiles and conversations history.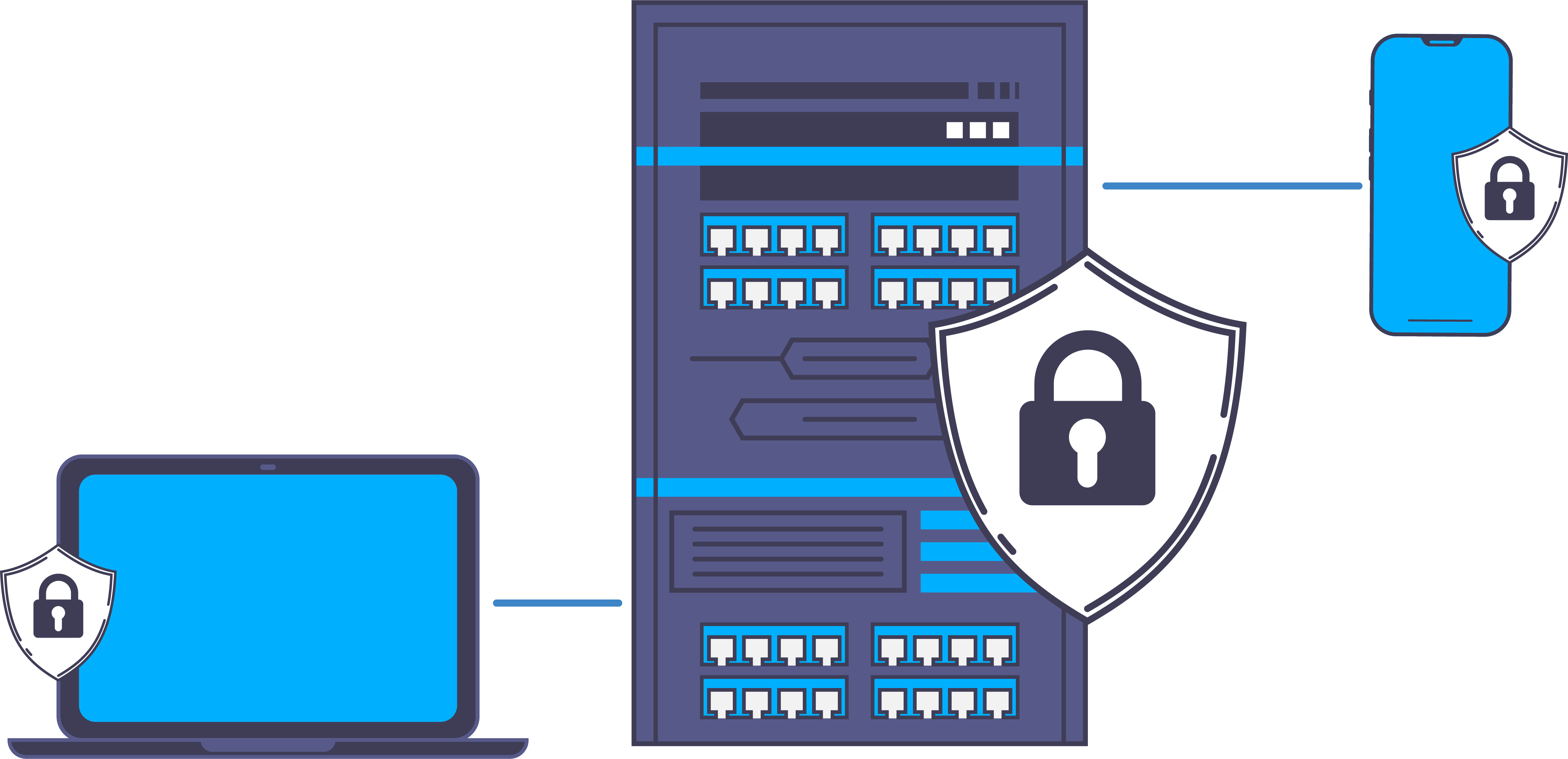 TLS and SRTP encryption
Ringotel encrypts communication between endpoints using TLS and SRTP protocols. If your organization has specific compliance policies we offer on-premise deployment within your infrastructure.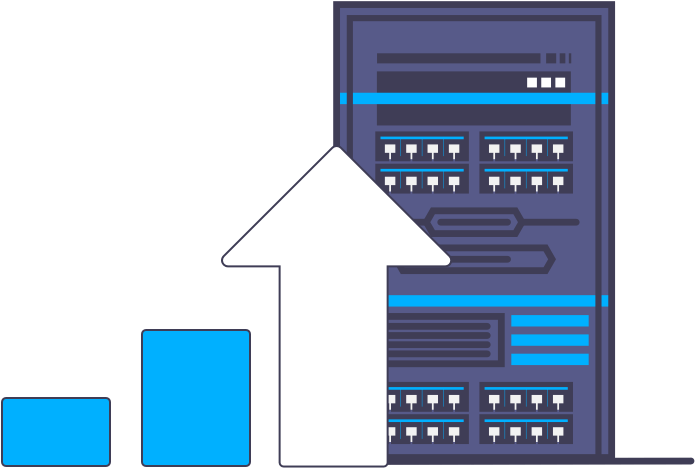 Maximize current Investments
Extend the lifetime and ROI of existing infrastructure by transforming your cloud or on-premise phone system into a mobile-first solution, optimized for remote work and integrated with your cloud business tools.
Leave your existing core technologies unchanged
Get the power of cloud UC solution for a fraction of its cost
Increase privacy and compliance of calls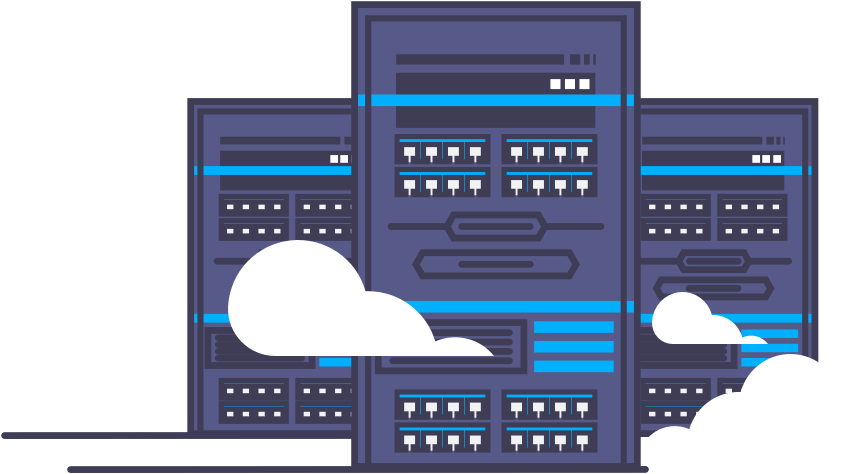 Are you a PBX reseller or VoIP service provider?
We've made Ringotel with you in mind. Generate a steady revenue stream keeping your existing clients and win new prospects providing innovative business continuity solutions integrated with your service/products.
Learn more
Trusted by businesses around the world
"Setup and working on my test lab within 5 minutes! OMG, I think I might have just found the replacement for crappy solution I'm using now."
"We are now on full use of the Ringotel app….Thanks for your fast reactions"
"This design is very good, let us easily change settings"
Start risk-free
Keep your infrastructure unchanged