How Ringotel works
Technical overview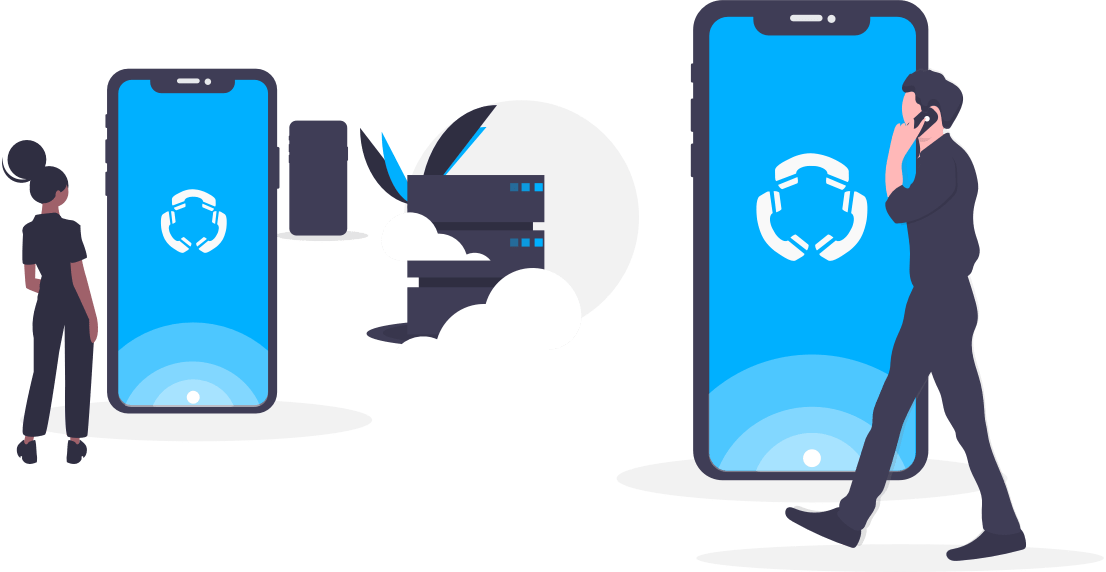 Ringotel utilizes the extension numbers, dial-plans and call flows already configured on your IP PBX.
All calls to and from Ringotel users are routed through the connected IP PBX(s).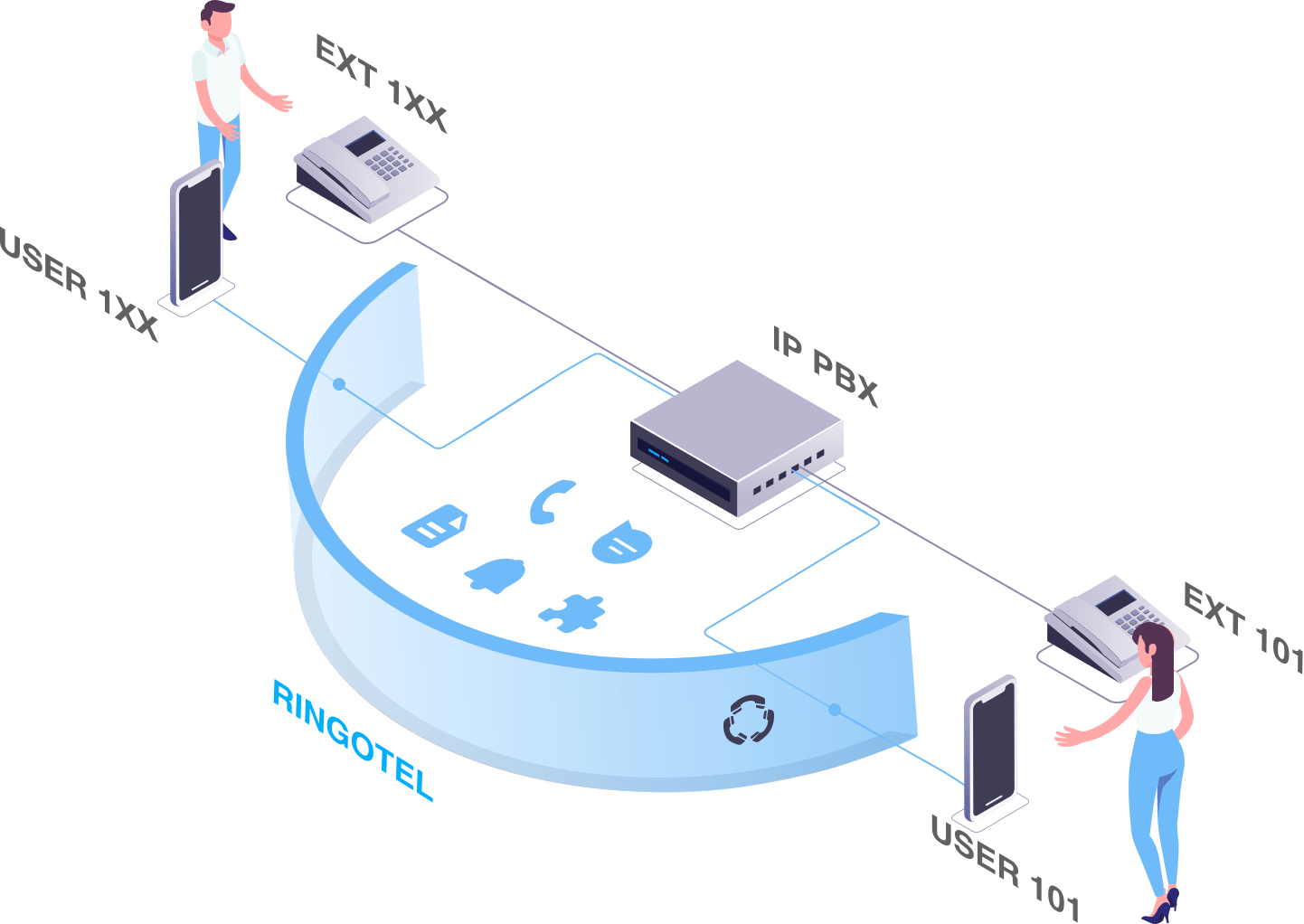 Connectivity scheme

Works as a secure VoIP tunnel between the remote users and the connected PBX(s).
Creates connections to IP PBX from a single IP address.
Creates a single connection per user, regardless of the number of connected devices.
User registers to Ringotel Server with separate credentials, other than SIP credentials of their IP PBX extensions.
On-premise deployment option (with failover configuration).
Ringotel's unique architecture provides the following benefits out-of-the-box:
Secure connection for remote users without deploying VPN or SBC
Easily unify dispersed PBXs into a single network
Deploy it on-premise for complete control over the data
Allows to record calls and playback anytime on any device
Sync calls, messages, files and contacts across all user's devices
Single-click cloud integrations
Allows to manage and monitor softphone users remotely
Decreases troubleshooting time for IT/PBX admins
Infrastructure for your global expansion
Ringotel utilizes Amazon cloud infrastructure to provide reliable connectivity for businesses around the world.
Our servers are located all over the world and integrated with AWS Global Accelerator, reducing latency and packet loss wherever you might be during a call.
We can also provide our server software for on-premise deployment within your infrastructure.
Frequently asked questions
Ringotel is a cloud softphone solution that works with any phone system that supports a standard SIP protocol. It is a full-stack solution that provides mobile and desktop apps and easy-to-use and powerful remote provisioning capabilities for IT / PBX admins.
There are several reasons why we chose a different approach, i.e., routing calls via Ringotel servers. Firstly, our vision is to build a solution that provides expensive cloud UC providers functionality for a fraction of its cost while allowing you to remain in full control over the core telephony infrastructure. Ringotel isn't just a softphone, but a platform that we constantly improve and build more features into it.From the technical side, it provides these main advantages:
Ringotel works as a secure VoIP tunnel that routes voice traffic from remote users to your PBX from a single IP address. That eliminates the need to use a VPN on the clients' phones or a responsive firewall on the PBX side, which can sometimes block the "good" traffic and cause issues.
It works through any NAT configuration, eliminating many networking issues when the PBX or clients are located behind NATs.
Shared contacts and synchronization of calls, messages, and recordings between devices.
Built-in CRM features and cloud integrations.
Ringotel works with any phone system that supports a standard SIP protocol. Currently, Ringotel successfully works with such PBXs and VoIP platforms as FreePBX, FusionPBX, FreeSwitch, VitalPBX, Askozia, Vodia, PortaOne, Twilio, 3cx, mPBX, MiRTA PBX and more. However, despite SIP being a standard, we frequently encounter discrepancies in implementation. So in case you have any problems integrating Ringotel with your appliance, please let us know, and we will do our best to make them play nice together!
Yes! Ringotel backend can be deployed within your infrastructure. Additionally, two servers can be deployed in the failover configuration. Contact us, and we will reach out to you about our on-premise solution.
Ringotel encrypts communication between endpoints using TLS and SRTP protocols. If your organization has specific compliance policies we offer on-premise deployment within your infrastructure.
Get started with Ringotel now
It takes less than 10 minutes to integrate with your Phone System