How Ringotel works
Technical overview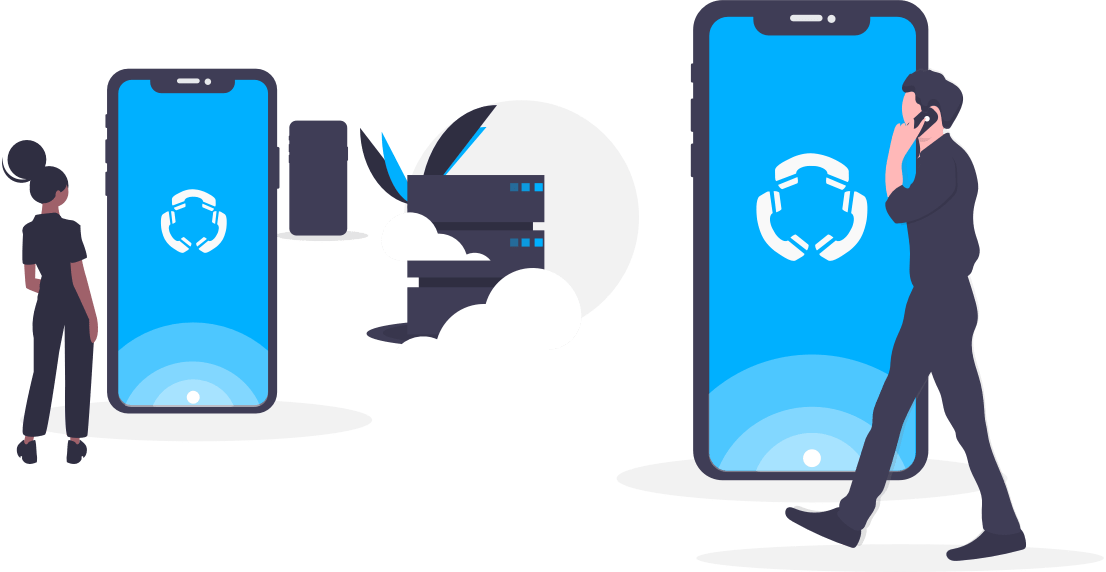 Connectivity scheme
Ringotel increases the security and reliability of your service, protecting your infrastructure by acting as an encrypted VoIP tunnel that routes voice traffic between the softphone users and your VoIP System(s).

Creates connections to IP PBX from a single IP address.
Creates a single connection per user, regardless of the number of connected devices.
User registers to Ringotel Server with separate credentials, other than SIP credentials of their IP PBX extensions.
On-premise deployment option (with failover configuration).
Ringotel utilizes the extension numbers, dial-plans and call flows already configured on your IP PBX.
All calls to and from Ringotel users are routed through the connected IP PBX(s).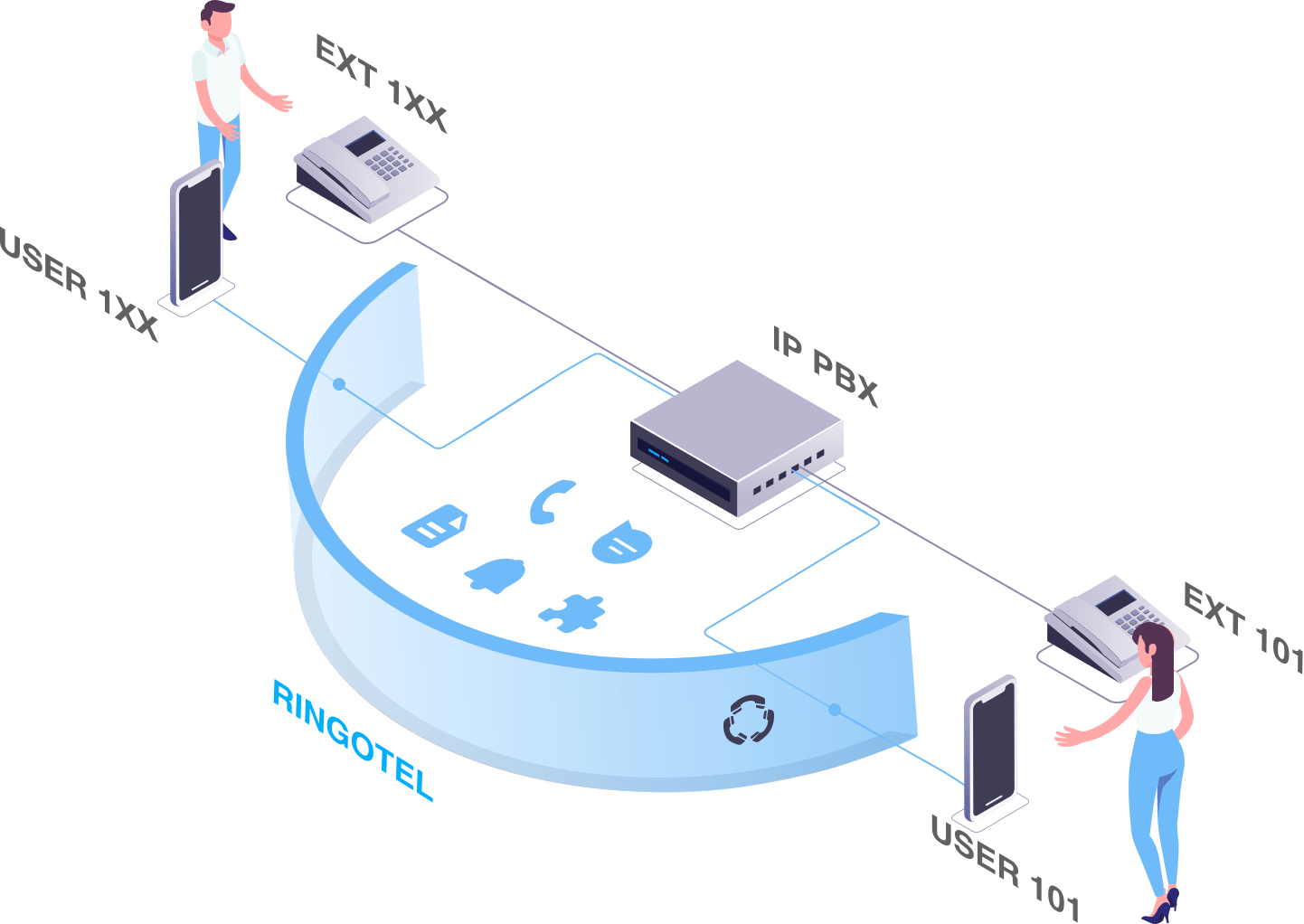 Ringotel's unique architecture greatly simplifies softphone provisioning, provides exceptional add-on features, and secures your VoIP infrastructure out of the box.
Secure connection for remote users without deploying VPN or SBC
Centralized softphone provisioning via the admin portal or API
Decreases troubleshooting time for IT/PBX admins
Easily unify dispersed PBXs into a single network
Deploy it on-premise for complete control over the data
Sync calls, messages, files and contacts across all user's devices
Out-of-the-box SMS and business integrations
Allows to manage and monitor softphone users remotely
Allows to record calls and playback anytime on any device
Infrastructure for your global expansion
Ringotel utilizes Amazon cloud infrastructure to provide reliable connectivity for businesses around the world.
Our servers are located all over the world and integrated with AWS Global Accelerator, reducing latency and packet loss wherever you might be during a call.
We can also provide our server software for on-premise deployment within your infrastructure.
"The big advantage for us is that all traffic runs through the Ringotel server so we have to allow only one IP address in the firewall. And Ringotel can easily be added to all existing installs.

I would recommend Ringotel without any hesitation."

Frequently asked questions
As an account administrator, you'll get access to the Ringotel provisioning portal, where you'll be able provision softphones for your users, preconfigure BLF contacts, enable integrations and other features. It takes only about 10 minutes before you can actually make calls and send messages.
Contact our team
or
book a demo
if you'd like to learn more.
Ringotel works with any VoIP system that supports a standard SIP protocol. At the moment, Ringotel successfully works with such PBXs and VoIP platforms as FreePBX, FusionPBX, FreeSwitch, VitalPBX, Askozia, Vodia, PortaOne, Twilio, 3cx, mPBX, 2600Hz KAZOO and more. We are constantly improving interoperability with other VoIP systems. If you want to check if Ringotel supports your system or if you have problems with its configuration – we would love to hear from you!
Ringotel has one of the most reliable push notifications services. Feel free to try it out and experience it yourself!
Ringotel supports multi-tenant systems (such as FusionPBX, for example) out-of-the-box with an unlimited number of domains and no additional cost.
Yes, we offer discounts for VoIP service providers, resellers and IT professionals who resell VoIP services. Learn more on how to
become a partner
.
Yes, Ringotel supports high-quality 1-on-1 video calling as a standard feature. Video conferencing (meetings) is supported via the Jitsi integration.
Yes, Ringotel apps can be customized according to your brand requirements.
Contact us
to learn more.
Yes, we provide 24/7 support worldwide through a ticketing system and emergency phone numbers. However, most questions can be answered via live chat, which is open from 8:00 AM to 10:00 PM UTC.
Ringotel encrypts all communication between the endpoints using the standard TLS and SRTP protocols. It works as a secure VoIP tunnel that routes voice traffic from softphone users to a connected PBX(s), so no need for a VPN or SBC solution. In addition, the communication can be encrypted between a Ringotel server and your PBX via TLS/SRTP. Also, Ringotel encrypts users' SIP passwords with one-way encryption and generates separate login credentials for the softphone users, so they don't know their SIP passwords from the PBX. If your organization has specific compliance policies, we offer on-premise deployment within your infrastructure. Please reach out to get help at
team@ringotel.co
.
Yes! Just contact us and we will reach out to you about our On-Premise License.
Yes! Ringotel provides native apps for Windows, Mac, and Linux, and mobile apps for iOS and Android.
Yes, what you can do through the Ringotel admin portal, you can do through the API. Use our Admin API to automate provisioning, such as creating Ringotel users when an extension is created on the PBX.
Yes, you can use the Ringotel softphone even without a PBX. When you create a connection, you can select the "Connect to a VoIP provider" option and enter the credentials provided by your VoIP service provider. Then create and assign users who will be able to make and receive calls via the connection. Contact our support team if you need further assistance.
Ringotel works as a secure VoIP tunnel that routes voice traffic from the softphone users to your PBX(s). So the end users will be connected to a Ringotel server, that in turn, will register to the PBX extensions. This architecture offers quite a lot of benefits out-of-the-box. In addition, we offer Ringotel on-premise, so we can install a Ringotel server within your or your customer's infrastructure and in this way, Ringotel can be conected to the local PBX.
Yes, you can easily enable SMS service for your users via the Messaging API, SIP SIMPLE, or our out-of-the-box SMS integrations with a variety of providers (like Telnyx, Twilio, Bandwidth.com, BulkVS, Skyetel, etc.) and features like group SMS chat, MMS, internal messaging, SMS to Email, and more.
Join 120+ VoIP service providers that streamline softphone provisioning with Ringotel