Mobile integration features
Explore features that Ringotel Shell brings to your PBX.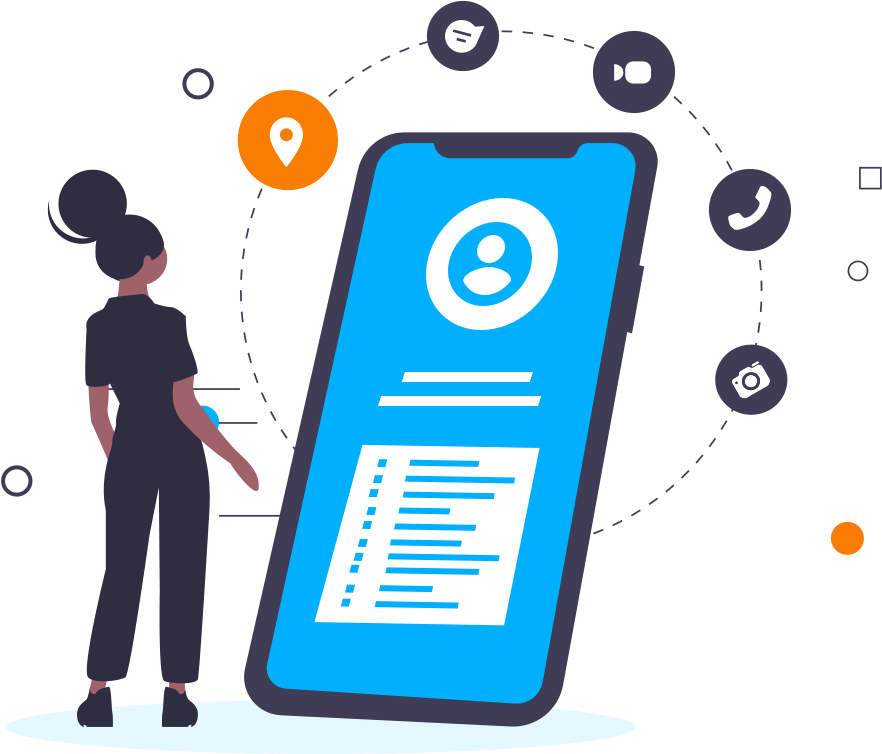 PBX features in mobile apps
Call transfer (announced/unannounced)
Enables a user to relocate an existing call to another user or external number after or before conferring with the recipient.
Call Forwarding
Redirects a telephone call to another destination, which may be any other extension or external telephone number. You can set forwarding on busy, on no answer, if not registered and unconditional.
Call Hold
Pause the current conversation. When the call is on hold, the other party listens to the music on hold.
Call Waiting
Suspend a telephone call already in progress to accept a second call. You may also switch between calls.
Total and on-demand call recording
Record every call or only specific calls. You can listen call recrods on-demand and share them with colleagues for more productive work.
Add and merge calls
With multiple line calling, you can add a call, switch between calls, and conference multiple calls.
Group Call
In Ringotel apps you can create a group of users and/or external contacts and initiate a conference call anytime with a single button.
Visual Voicemail
All your voicemails are conveniently organized by each contact. You can listen to voicemails anytime via Ringotel apps using your preferred speaker.
DTMF Support
Send DTMF tones during a call using the dial pad in your Ringotel app.
Dial plan
Easily add rules to transform the numbers to be dialed by adding, removing or changing prefixes, substituting numbers or prohibiting calls.
Network switching
Continue conversation when switching from Wi-fi to cellular Internet without establishing a new call.
Works with NATs
Ringotel has integrated TURN-server capabilities for reliable connection behind NAT firewalls, preventing calls with no or one-way audio.
Push-notifications
Reliable push-notifications service "wakes up" your phone when a new call or message arrives.
Improved call quality
Ringotel implements the OPUS codec that provides high quality calls even on a slow Internet connection.
Video calls
Make high quality 1-on-1 video calls with your colleagues
Personal & group chats
Initiate personal and group chats with colleagues. Share files photos, audio messages and locations.
Presence control
In Ringotel apps you can see in real-time if your colleagues are available, busy, away or offline.
Privacy of your data
Ringotel encrypts every call, message and file sent between users by default, using the strongest block cipher available.
SIP/RTP over TLS
Ensure the privacy of calls for your employees by allowing communication through their extension over an encrypted connection.
Productivity & Integrations
Lightweight CRM
Keep clients profiles and history of communication conveniently organized in one place so next time you and your colleagues will know exactly who's calling. Provide call subject and call comment to store a call context.
Easy provisioning
Allows users to easily and securely log in to their Ringotel mobile apps without knowing and entering their SIP credentials.
Third-party integrations
Easy integration with third-party CRMs and business tools and have all the vital information on the palm of your hand Coming soon
Ready to get started?
Sign up for a free beta and join the community of beta testers!