Mobile integration features
Explore features that Ringotel Shell adds to your PBX.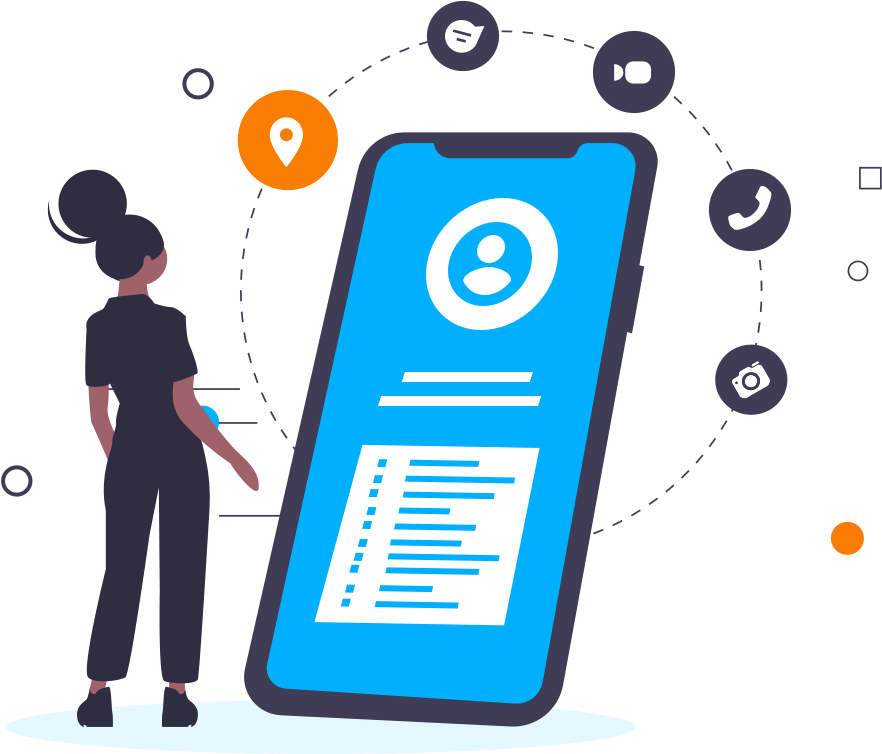 Call transfer (blind/announced)
Enables a user to relocate an existing call to another user or external number after or before conferring with the recipient.
Call Forwarding
Redirects a telephone call to another destination, which may be any other extension or external telephone number. You can set forwarding on busy, on no answer, if not registered and unconditional.
Call Hold
Pause the current conversation. When the call is on hold, the other party listens to the music on hold.
Call Waiting
Suspend a telephone call already in progress to accept a second call. You may also switch between calls.
Secure call recording
Securely record every call or only specific calls. You can listen call recrods on-demand and share them with colleagues.
Add and merge calls
With multiple line calling, you can add a call, switch between calls, and conference multiple calls.
Group Call
In Ringotel apps you can create a group of users and/or external contacts and initiate a conference call anytime with a single button.
Visual Voicemail
All your voicemails are conveniently organized by each contact. You can listen to voicemails anytime via Ringotel apps using your preferred speaker.
DTMF Support
Send DTMF tones during a call using the dial pad in your Ringotel app.
Network switching
Continue conversation when switching from Wi-fi to cellular Internet without establishing a new call.
Works with NATs
Ringotel has integrated TURN-server capabilities for reliable connection behind NAT firewalls, preventing calls with no or one-way audio.
Push-notifications
Reliable push-notifications service "wakes up" your phone when a new call or message arrives.
Global connectivity
Ringotel utilizes AWS global network to improve connectivity and call quality. Doesn't matter how far are you from your phone system (on another continent), voice traffic will be routed via the most optimized path from your app to the phone system and backwards.
Improved call quality
Ringotel implements the OPUS codec that provides high quality calls even on a slow Internet connection.
Video calls
Make high quality 1-on-1 video calls with your colleagues
Personal & group chats
Initiate personal and group chats with colleagues. Share files photos, audio messages and locations.
Presence control
In Ringotel apps you can see in real-time if your colleagues are available, busy, away or offline.
Unified team directory
Every time a user is added or removed from Shell's admin portal, it is automatically synced on team members' devices.
BLF auto-provisioning
Busy Lamp Field shows whether another extension connected to PBX is busy or not. Ringotel Shell automatically subscribes for notifications from your PBX providing real-time statuses in-sync with the ones on your PBX.
Import contacts
Import contacts from a mobile device and call them through your PBX extension.
Shared company contacts
Sync contacts between team members so next time you and your colleagues will know exactly who's calling.
Client profile and activity
Keep clients profiles and history of communication conveniently organized in one place.
Call outcome fixation
Save context of a call with call subject and call comment and access it at any time.
Secure call recording
Record every call or only specific calls. Listen call recrods on-demand. Share call recordings with team members for more productive work.
Data encryption
Ringotel encrypts every call, message and file sent between users by default, using the strongest block cipher available.
SIP/RTP over TLS
Ensure the privacy of calls for your employees by allowing communication through their extension over an encrypted connection.
Less admin work
All communication with your servers will only be made from the trusted networks.
Centralized management
Manage users and PBX connections from a single place and resolve connectivity issues more easily.
Automated provisioning
Allows users to easily and securely log in to their Ringotel mobile apps via QR codes.
Dial plan
Easily add rules to transform the numbers to be dialed by adding, removing or changing prefixes, substituting numbers or prohibiting calls.
Interconnect multiple PBXs
Connect multiple PBXs and organize users in one place real-time presence and all the calling and collaboration features.
Start your free 14-days trial today!
No credit card required.
---
Want to learn more?
Book a Ringotel Shell demo today!
Pick a time