Features designed for modern communication
See how Ringotel can supercharge your existing Phone System.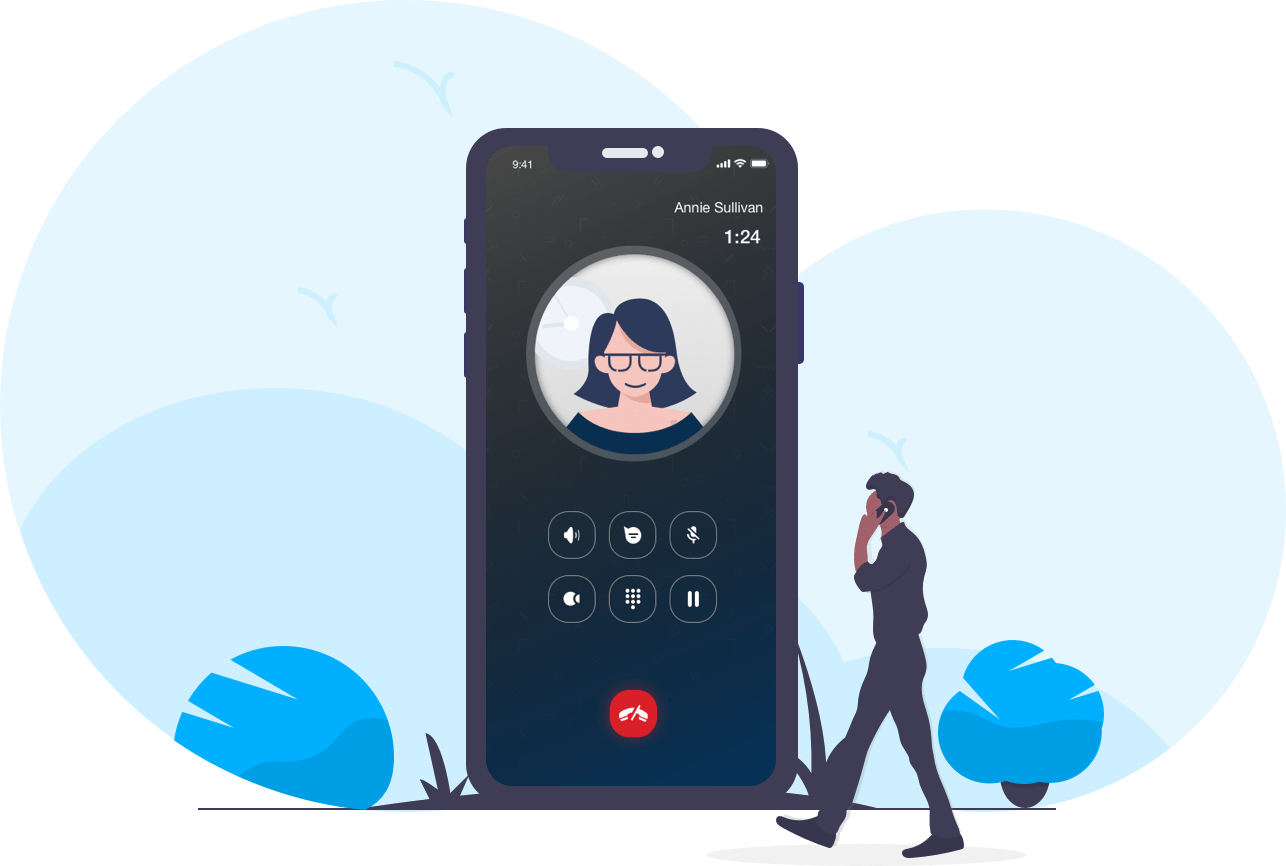 Premium call features
Blind/attended transfer, unlimited conferencing, multiple forwarding rules and more.
Rich messaging
Private and group messaging, media and files sharing, advanced filters and much more for productive work.
High-quality video calls
Make high-quality 1-on-1 video calls from your mobile or desktop devices with a screen sharing feature.
Call Forwarding rules
Set various call forwarding rules, such as busy, no answer, unconditional, no registration.
Cloud call recording
Listen to call recordings anytime and across all your devices. Start/stop recording anytime during a call or set up auto-recording to auto-record every call.
Visual voicemail
Listen to your voicemails right in the app and be notified about new one with push-notifications.
Push notifications
Never miss a call, message or a voicemail, and save battery life with reliable push-notifications.
Presence and Busy Lamp Field
Easily see who's available to talk, who's busy, and who's offline.
At-the-desk mode
Reduces distractions by delaying the incoming calls coming to your phone.
Lightweight CRM
Get full context about who you're talking to with customer profiles and conversations history.
Click-to-call
Allows automatic dialing by clicking on the phone numbers in the web browser or other native apps.
Highlight-to-call
Allows to highlight a phone number anywhere on the computer screen and automatically make a call via the Ringotel app.
Speed Dial & BLF
Quickly dial the most frequently used numbers or features with their real-time BLF status.
Custom webpages
Allows to open any webpages inside the app.
Multiple CLI options
Provides a selection of CLI numbers before making an outgoing call. During an incoming call, users can see which number the call is being made to.
Localizations
Ringotel softphone is more convenient for non-native English speakers, because its user interface has Brazilian Portuguese, Spanish, Russian, German and Ukrainian localizations.
Video conferencing (coming soon)
Create team meetings with high-quality video and audio, screen sharing, calendar integration, and external invitations.
Remote softphone configuration
Reduce manual work for users by remotely configure their softphone setting, like extensions list, BLFs, external contacts, etc.
Welcome emails with QR codes
Simplify installation and setup of softphones for users with automated welcome emails and QR code provisioning.
Users activity and presence
Monitor softphone users presence in real-time, see calls and registration history from the admin portal.
Hosted XML Phonebook
Manage contacts in one place and sync them between users' devices, including IP Phones and third-party softphones.
Integration with PBX features
Ringotel provides seamless integration with PBX features directly from the softphone user interface.
Centralized phonebook
Import external contacts into a shared directory to become available to all Ringotel users within the organization.
XML remote phonebook
XML remote phonebook feature allows you to access your up-to-date corporate directory from your softphone.
Multiple outgoing CLI numbers
Connect multiple outgoing CLI numbers to users so they can make and receive calls on behalf of other PBX extensions.
Unify users from multiple PBXs
Connect users created on discrete PBXs into a single directory with BLF, instant messaging, conferencing, video calling, and more.
Easy-to-use and flexible dial plans
Strip or change outgoing number prefix, substitute a number or prohibit calls to some destinations – all using an intuitive interface.
Keep SIP credentials secure
SIP credentials are stored encrypted and never shared with anyone, while users login into their apps with auto-generated passwords.
Connect SIP Endpoints
Register any SIP endpoint to the Ringotel platform, like IP Phones, third-party softphones, etc., and securely route voice traffic to your PBX server.
Two-Factor Authorization
2FA adds an extra layer of security on top of your administrator's login and password, which is a verification code generated by the 2FA-compatible application.
Phone number normalization
Automatically translate a phone number into a standard format to identify contacts stored in the system when the incoming call comes through.
CRM Integrations (beta)
Integrate your IP PBX with various CRMs in just a few clicks and automate routine work for your employees.
Cloud contacts integrations (beta)
Synchronize contacts from the cloud directories to help your employees achieve more efficient customer communication.
Single-click cloud integrations
Integrate your IP PBX with various CRMs and cloud directories in a few clicks to automate routine work for your employees and improve customer service.
Screen-popups
Opens a specified native application or a URL in the new browser window/tab before or after answering an incoming call.
Admin API
Admin API allows you to administer your Ringotel Shell account from your backend.
Messaging API (SMS/MMS)
Messaging API provides a mechanism to send text messages and files to Ringotel users from a third-party web service or application, as well as receive messages and notifications to the specified webhook.
SIP TAPI
SIPTAPI can be used for click-to-call from any TAPI-enabled application, like Microsoft Outlook, and make phone calls via the Ringtel desktop client.
SMTP configuration
Improves deliverability of service emails if your company has a stringent security policy, allowing emails only from a limited list of authorized addresses or domains.
SMS via SIP SIMPLE
Allows Ringotel users to send and receive SMS through the connected PBX (if it supports SIP SIMPLE)
Get started with Ringotel now
It takes less than 10 minutes to integrate with your Phone System