Add
Teams-like functionality
to your Phone System
in less than 10 minutes
Ringotel is a feature-rich and cost-effective UCaaS solution that works
on top of your cloud or premises PBX.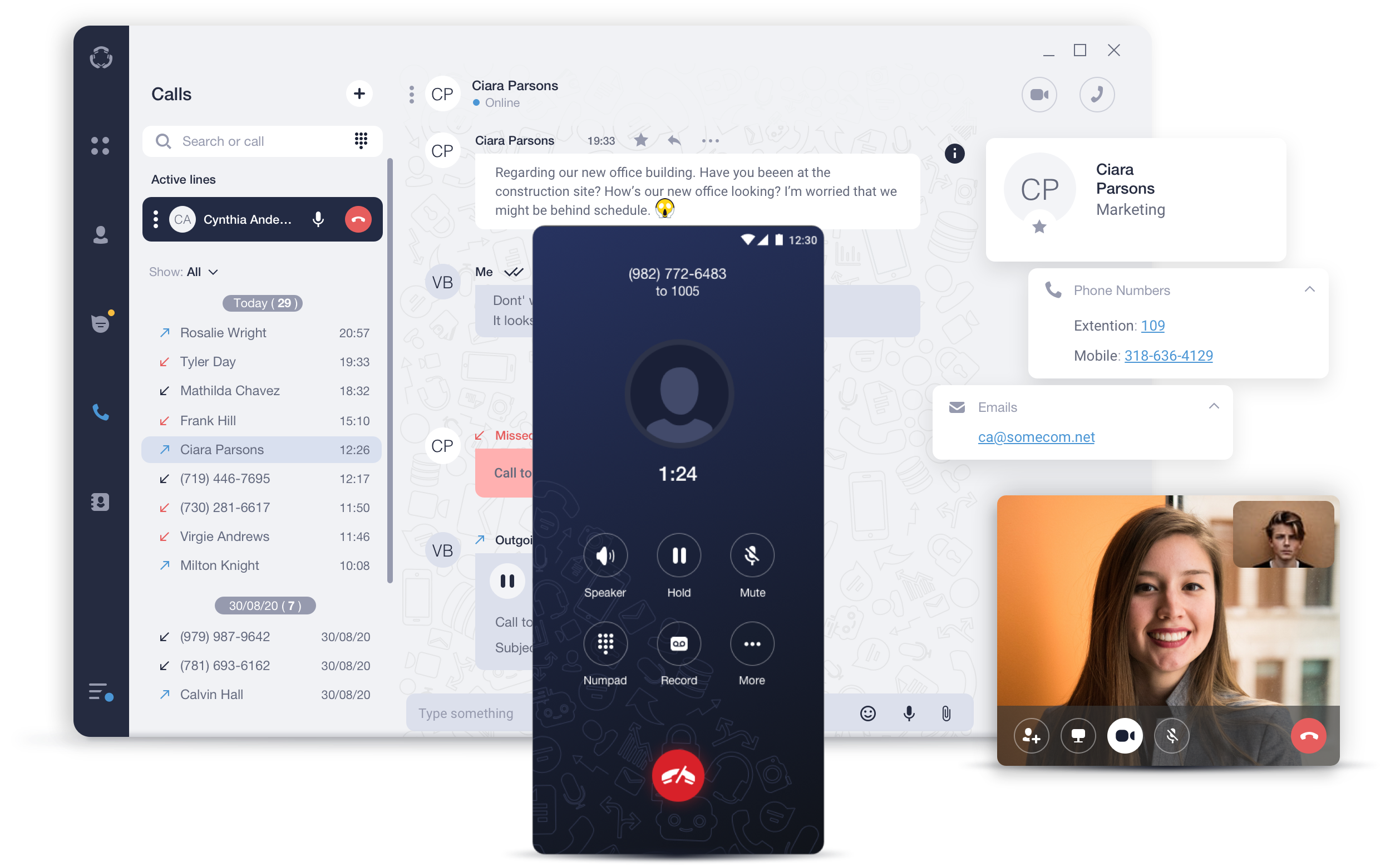 Trusted by service provides and businesses around the world
Official softphone provider for FusionPBX

Add an exceptional value to your customers, instantly
Stand out from the crowd with the state-of-the-art mobile and desktop apps packed with the features your customers will love.
Learn more →
"We needed a product to offer to our customers which had Teams-like functionality and feel but without the expense and the Ringotel offering fit perfectly. With an ever increasing list of very cool features I would be happy to say this is the best software in the softphone market."
Reduce admin work with the easy-to-use and powerful provisioning
It's never been that easy to provision, maintain and monitor softphones from anywhere, anytime.
Learn more →
"Administration is super easy. Built to integrate with a PBX with extensions configured already"
Increase security and reliability of your service
Ringotel protects your infrastructure by acting as a secure VoIP tunnel that routes voice traffic between softphone users and your Phone System.
Learn more →
"The big advantage for us is that all traffic runs through the Ringotel server so we have to allow only one IP address in the firewall. And Ringotel can easily be added to all existing installs.

I would recommend Ringotel without any hesitation."
White-labeled Softphones under your own brand
Offer your customers softphone apps with your logo, colors, and name to match your brand. Our team of experts will make all the customizations and publish your own app in App Store and Play Store under your company's account.
Pricing as low as £0.40 user/month
Ringotel is a softphone solution that grows with your business. No matter if you have a few or thousands of users.
For Service Providers
If you are a VoIP service provider or have unique requirements regarding data location, custom integrations, or apps customization
Special pricing with volume discounts
White-labelling
Easy-to-use provisioning portal
On-premise deployment for complete control over your data
Development API
Professional support 24/7
Frequently asked questions
As an administrator, you'll get access to Ringotel admin portal, where you'll need to specify the provisioning settings, add or import users, optionally setup dial plans and other features. It takes less than 5 minutes before you can actually make calls and communicate with your colleagues.
Learn more
.
Ringotel works with any phone system that supports a standard SIP protocol. At the moment, Ringotel successfully works with such PBXs and VoIP platforms as FreePBX, FusionPBX, FreeSwitch, VitalPBX, Askozia, Vodia, PortaOne, Twilio, 3cx, mPBX and more. We are constantly improving interoperability with other VoIP systems. If you want to check if Ringotel supports your system or if you have problems with its configuration – we would love to hear from you!
Yes! Just contact us and we will reach out to you about our On-Premise License.
Ringotel encrypts communication between endpoints using TLS and SRTP protocols. If your organization has specific compliance policies we offer on-premise deployment within your infrastructure.
Start Your 14-Day Free Trial!